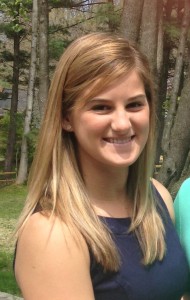 How did you get into becoming a Newborn Care Specialist?
I began working with children in 2009, and found my niche in infants and toddlers in 2013.  I am a part-time nanny for two-and-a-half y/o twin girls.  I have been working with their family since they were newborns.  I love working with my now-toddlers, but found that I missed working with infants.  I decided to further my education in infant-specific care because I have a passion for working with newborns and their families.  Overnight care has been a perfect fit, as it allows me to nanny by day, and work with infants at night.
What is the greatest compliment you've ever received from a client?
"It was such a blessing to have you.  I'm going to tell my pregnant friends that they need to book this service."
Do you specialize in a particular area of newborn care?
I have extensive experience with twins, but enjoy working with families of all sizes.
What do you enjoy about working with new families?
I love seeing a parent's face after their first full night of sleep.  It's extremely rewarding to help families enjoy this precious time rather than having to spend it suffering through sleep deprivation.
Tell us a little about your educational background. What degrees or certifications do you have?
My Newborn Care Specialist certificate of completion is through Newborn Care Training Academy.  I have an AA with a concentration in Psychology.
Let's talk newborns: what is your favorite part about caring for newborns?
Postpartum care has lasting effects on the physical, cognitive, and psychological development of a child. Positive, engaging, and proactive care gives a child the opportunity to reach their full potential. I am passionate about working with newborns because every minute is precious in this vital period of development.
How long have you lived in the DC area and how did you arrive there?
I have lived in Annapolis since 2008 when my family relocated there from Yuma, Arizona after my father retired from the Marine Corps and took a civilian job as a test pilot in the Baltimore area.
If there was one thing you wish everyone knew about newborn care specialists, what would it be?
I think that a lot of new moms feel like they are required to endure the exhaustion of caring for their infant, night after sleepless night.  I wish that everyone knew that it doesn't make you any less of a mom to have some help.
How would you characterize your approach to newborn care and working with new mothers?
My personal childcare philosophy is based on Magda Gerber's Resources for Infant Educators paired with years of experience.  Resources for Infant Educators is rooted in forming respectful relationships for life with babies by acknowledging them as active participants in their world and doing things with them, not to them. Specifically for overnight infant care, I follow Dr. Karp's method and offer new mothers information about the 5 S's and healthy sleep habits.
What is next for you? Are you preparing for a new certification or training event?
In the future I would like to become a Certified Educator of Infant Massage.  I am also interested in eventually becoming a birth and postpartum doula.
What do you enjoy outside of caring for newborns?
I spend most of my free time hanging out with my dog, rescued from Alabama in 2014.  I am a passionate advocate for animal rights and recently became involved with the organization ReLove Animals, which works to educate children about the responsible way to treat animals.
Share a fun fact about yourself!
I am engaged to a Naval officer who is stationed in Florida learning to fly helicopters.  I look forward to eventually joining him at his next duty station.
Kathleen is a Newborn Care Specialist providing overnight care services in the Annapolis, MD area. See her team member profile here.