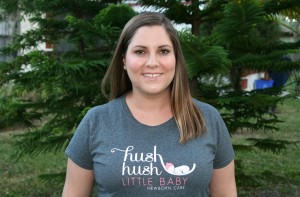 Megan has a unique story in that I met her at church years ago working in the nursery. I immediately knew she would make awesome newborn care specialist, as I am always scouting out women to join the team! Megan eventually joined the Tampa team and shortly after got news she would be moving. I was devastated to lose a friend and amazing team member, until she got word she would be relocating to the Washington D.C. area and the rest is history. Megan is an amazing team member and we are very fortunate to have her!
Where are you from originally and how did you get into the newborn profession?
I was born and raised in Sarasota, Florida. My passion for newborns began long before I was a wife or mother. Since about the age of 13 I have babysat children of all ages. It wasn't until I had triplets that I realized I was really good at taking care of newborns and enjoyed it more than most.
---
What is the greatest compliment you've received from a client?
Recently I had the opportunity to help a past client of mine figure out a better day time routine for her twins. During the course of conversation she said "You're worth a million dollars an hour to me!" It made me feel great knowing not only was she satisfied with the care she received when her babies were newborns, but that she also trusts my opinion enough to hire me back to help her tweak their schedule to make it just right.
---
Do you specialize in a particular area of newborn care?
I really enjoy working with multiples as well as sleep training. I have a lot of personal experience in sleep training my own children and also helping friends learn to create healthy sleep habits for their new little one(s).
Because I do really enjoy working with multiples, it also opens the opportunity to work with preemies. Having four premature babies of my own has allowed me to connect with new parents on a personal level, which I think puts their mind a little more at ease.
---
What do you enjoy most about working with new families?
I love watching them grow and develop as a family. One of my favorite jobs has been starting from night one and working the full 12 weeks. The transformation that the family goes through together is amazing.
---
Tell us about your educational background. What degrees or certificates do you have?
I have completed the Newborn Care Training Academy's 9 part workshop to enhance my knowledge in the profession.  I also have 8 years of experience in raising my own kids, three of whom are now 4 year old triplets.
---
Lets talk newborns: What is your favorite part in caring for newborns?
Aside from being able to snuggle up to sweet little babies, I also really enjoy watching them grow and adapt to the best routine for them. It's so amazing when it all clicks and Mom can finally see she will sleep again!
---
Have you ever had to overcome a unique challenge as a newborn care provider? How did you solve it?
I think it would have to be learning to communicate with all kinds of people. Each family has their own way of doing things and it's my job to teach them in a way that makes sense to them and works for their family. I've learned it's sometimes best to not say anything and let them figure it out one step at a time. Whether they are bringing home one baby or more, it's a huge transition for everyone and its my job to help ease the transition the best way I can!
---
If there were one thing you wish everyone knew about newborn care specialists, what would it be?
I wish everyone understood there is so much more that goes into our job than just feeding, burping, changing babies. Although we do do all those things, we also educate families, provide lactation support, sleep conditioning, postpartum care for mothers, bereavement support for those who have lost, and so much more.
---
How long have you lived in the DC area and how did you arrive there?
I have lived here exactly one month! I came to DC from Tampa because my husband is a Marine and was restationed here. So far we love the area and I'm looking forward to working with many more families here.
---
How has being a mother impacted my job caring for newborns?
Becoming a mother is one of the greatest joys, but also one of the greatest challenges of my life. I think its given me more grace to extend to each family as well as a glimmer of hope. The early days are filled with highs and lows. Being there to comfort a first time mom or a third time mom is one of the best parts of what we do.
---
How would you characterize your approach to newborn care and working with new moms?
I think I'm similar to Michana in this aspect of a more "go with the flow". There's nothing greater than a mom feeling empowered by the decisions she's made for her new baby and family. While I think it's important to educate, it's also equally important to allow the mom to use her natural instincts.
---
What is next for you? Are you preparing for a new certification or training event?
Yes! In a week I'll be taking the ProDoula Postpartum course. I'm really excited to further my education and becoming more well-rounded in the type of care I can provide. Once my family is a bit more settled, I would also like to take a sleep training course to have the education back my experience.
---
What do you enjoy about being on the Hush Little Baby Team?
I really enjoy learning from other team members and getting a glimpse into the type of provider they are. It encourages me to keep educating myself and challenging the skills I already have.
---
What do you enjoy outside of caring for newborns?
I love spending time with my family. My husband is really adventurous and always has something fun planned for us. We love to vacation and visit new places.
---
Share a fun fact about yourself!
Well, its no secret that I have triplets, but the fun part of that is I carried them longer than I did my singleton! My triplets were full term (36 weekers) and my singleton was born at 33 weeks.
---