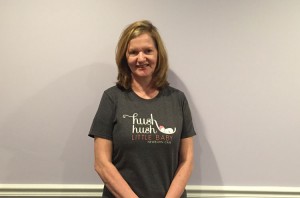 Linda Lindsay
Linda has been such a warm addition to the Hush Little Baby team. Her experience as a mother of three grown children combined with her extensive newborn care experience is a wonderful highlight to her career.
Where are you originally from and how did you get into the newborn care profession?
I am originally from Ireland where I lived until I came to the United States at the age of 18.  When I first came to the United States, I made my home in McLean, VA where I was a nanny for a family for five years. I am happily married with three children two of whom are in college and one in high school. As my children got older, I was able to return to the newborn care business.
What is your great compliment you've ever received from a client?
The greatest compliment I have ever received was hearing that I have the gift of helping new moms to adjust and make a successful transition from hospital to home.
Do you specialize in a particular area of newborn care?
Newborn care is my specialty. I enjoy helping new moms with all the different facets of motherhood from breastfeeding to sleep training. Teaching new parents the ins and outs of newborn care such as bathing, diaper rash, etc. brings me great joy.  New parents come with many questions and I work to alleviate their worries by making them to feel more relaxed while learning all the many routines of newborn baby care.
What do you enjoy about working with new families?
I am someone who is truly present and I love my work. Working in partnership with the new parents, I am committed to doing all I can to help. I understand the physical, emotional, and practical issues that come along with a newborn and I pay close attention to all of them.
Tell us a little about your educational background.  What degrees or certifications do you have?
I am CPR and First Aid certified. I serve as a newborn care specialist and I recently became a Postpartum Doula.  I have logged in more than 1,300 hours working with preemies, newborns, and multiples which has been extremely rewarding and helpful in preparing me for assisting my clients and being able to put them at ease in any situation.
What is your favorite part about caring for newborns?
Every newborn is a precious gift. Watching their growth over the first couple of weeks of life is one of my favorite parts about caring for newborns. Also, in helping to care for the newborn, I love to see how the parents grow to be more comfortable with their little one.
How has being a mother impacted your career caring for newborns?
Being a mother myself, I have experienced many of the things that all new mothers go through. I breastfed all three of my children which prepared me for this career. I share many of the experiences with these new moms and dads and find all of it very rewarding.
How would you characterize your approach to newborn care and working with new mothers?
I love teaching and supporting new parents as the begin the wonderful journey of parenthood. I absolutely adore babies and being a partner in their care is an experience that brings me great joy. Seeing a new mother find comfort and confidence in her ability to care for her baby is my goal.
What is next for you?  Are you preparing for a new certification or training event?
I plan on moving forward and taking as many trainings as I can. You can learn something new from every training which benefits me greatly in the long run.
What do you enjoy about being on the Hush Little Baby Team?
I love being a part of the Hush Hush Little Baby Team because they give me great support and I love the ongoing trainings. It is a great company to work for.
What do you enjoy outside of caring for newborns?
I enjoy spending time with my family and my two labs, Bailey and Holly.