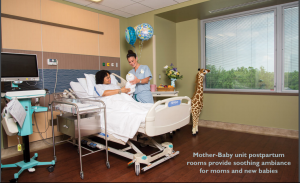 If you are in the Washington, D.C. area and expecting, you are probably aware that Sibley Memorial Hospital has been working on a new Mother-Baby Unit for some time now. We have some awesome news! The new building officially opened on September 26th, and they didn't disappoint! In today's blog, we are going over some of the highlights for the new Sibley Labor and Delivery wing.
Features
The new hospital building houses many great features including an expanded oncology unit and orthopedic unit with dedicated rehabilitation facility. However, we at HHLB are most excited about the new Sibley Labor and Delivery wing. The Women's and Infant's Services department, as they are now calling it, boasts eight private triage rooms in addition to 18 labor and delivery rooms and three spacious C-section rooms. For high-risk pregnancies and births, they have Maternal Fetal Medicine Services in their Special Care Nursery.  Through the Special Care Nursery, the new Sibley Labor and Delivery wing is staffed round the clock (24/7) with neonatal nurses and neonatologists. Additionally, the Special Care Nursery is also equipped with Mobile fetal monitoring & central fetal monitoring.
Once baby has been delivered, mom and baby will be able to recover in one of their 50 large postpartum rooms.  Each room comes equipped with a sleep sofa and 55" HD TV. The Special Care Nursery includes 18 private rooms with six rooms dedicated to families with multiples. There is even a dedicated lactation area where new mothers can receive assistance with breastfeeding.  Regarding state of the art technology, the new Sibley Labor and Delivery wing has an advanced infant security system, real time locator system (RTLS) for people and equipment, and in-room medication access via Pyxis systems.
Classes offered
There are also a wide variety of classes available to new and expectant mothers at the new Sibley Labor and Delivery wing. Classes range from preparation classes for breastfeeding, childbirth, and planned Cesarean to baby care and yoga classes.  Classes are held regularly onsite and are taught by qualified professionals.  For information on the class options or to register for one of their classes, follow the link here.
Tours
If you are delivering at the new Sibley Labor and Delivery wing, we recommend taking a tour of their facilities ahead of time.  They offer both maternity tours and sibling tours multiple times per week.  All tours are complimentary, but registration is full until the end of November. To find available tour dates or register for your tour, follow the link here.
Check out the video tour here: