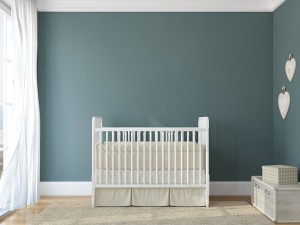 Setting up the nursery is a source of joy and excitement for many expecting parents. However, there are many things to consider before purchasing your nursery furniture.  In this week's blog, we will be looking at three major items that are common in today's nurseries and discussing important decisions that need to made concerning each item.
Crib
There are a wide variety of cribs on the market to choose from but the key concept in selecting a crib is to plan ahead.  Most cribs fall into one of two categories: regular or convertible.  A regular crib is just that, a regular crib, but a convertible crib can be transitioned into a toddler bed and eventually a full size bed as your child grows.  It is also important to decide on a crib early because some cribs take 7-14 weeks to be delivered once they have been ordered.  Finally, if you are considering having more children in the future and would like to reuse the crib, you'll want to pick something gender neutral.
Dresser
The dresser will likely be the main storage piece in your nursery furniture set so it is important that it be functional for your family. One thing that often gets overlooked when setting up a nursery is using a changing pad on top of the dresser instead of a changing table to conserve space and reduce cost. While we are discussing space, I would recommend measuring the dresser and the space in your nursery before purchasing to ensure it will fit well in the room.  Lastly, make sure that the dresser you pick out comes with a kit to anchor it to the wall and install the kit to protect any future daredevils.
Glider
A glider is strongly recommended for your nursery because of the amount of time you will spend in it. When shopping for a glider, you will likely be looking at reclining glider or one with an ottoman.  If space is at a premium in your nursery, the reclining option is the one for you as it provides all the comfort without requiring a dedicated space when not in use. For convenience, it is worth looking at gliders that can swivel to make it easier to reach items you may need without having to get up.  Finally, be sure to try it out perspective gliders in store before purchasing because pretty does not always equal comfortable.