Darla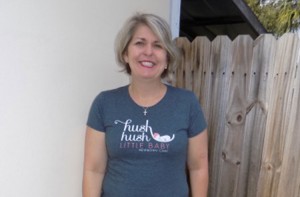 Darla was one of the first team members to join the team in Tampa, Florida and her passion for babies in undeniable! Darla is our Tampa sleep specialist and has a great knowledge base of sleep instruction for new families!
Where are you originally from and how did you get into the newborn care profession?
I was born and raised in Tampa, FL. I have always loved children and from a very young age I could always be found wherever there was a baby. When my husband of 21 years and I decided to start having children, I was 25 years young and didn't have the internet or books to help my babies get to sleep. So I just put my babies on a schedule in the hospital and came up with some of my own little ways that just seemed to work just right. I had four baby girls, all with different personalities and dispositions, but they all slept through the night from 7pm to 7am with a dream feed by 4-6 weeks. I'd bottle feed one child and breast feed the others and it was still fool-proof! As I got older I found myself helping friends, family, and women from my church who were seemingly struggling with their newborns and I even gave a lot of advice for toddlers. I then found myself sitting in many L&D waiting rooms and spending many a night in hospital rooms helping mommies with nursing and caring for their babies. That then grew into at-home work where I'd help moms get their baby on schedules and doing overnight care for 3-4 nights. I've spent countless hours consulting with mommies via phone and also opened a home daycare for 3 ½ years which gave me lots of opportunities to train babies and mommies.
As I've witnessed many beautiful new babies coming into this world, I've been able to provide emotional, spiritual, and physical support, and that is what makes it all worth while.
---
Let's talk newborns: what is your favorite part about caring for babies?
I love holding those precious little ones in my arms and doing the late night feedings. Watching them grow and thrive over my time with them and knowing that all the training is paying off for baby and mommy.
---
What is the greatest compliment you've ever received from a client?
More than one client has given me the nickname of "Baby Whisper," which to me is a huge compliment. I have been told that I truly have a gift for encouraging moms and being authentic, which builds a trusting relationship with the mother.
---
Do you specialize in a particular area of newborn care?
Writing and implementing schedules for babies. But most importantly encouraging and empowering my mommies to believe they are the best mom for their precious baby and they do not need me.
---
What do you enjoy about working with new families?
I love building strong relationships between moms and their babies and allowing them to believe in what we are doing.
---
If there was one thing you wish everyone knew about newborn care specialists, what would it be?
I wish they knew that my entire focus is to build relationship not only with their baby, but them. I'm not just there to change diapers, but to be their sounding board and their biggest cheerleader on both good and bad days. My goal when I start with a new family is to see how fast I can work myself out of a job because that would mean that I have a happy baby and mommy who are both getting lots of sleep.
---
How has being a mother impacted your career caring for newborns?
Being a mom has given me the ability to know how hard this job is and the responsibility that comes with this role. It has allowed me to understand that my sanity is based upon a baby that is on a solid schedule and sleeping through the night. It is my drive to help mothers do the same. I have compassion because I know what those first few weeks with a newborn feels like.
---
How would you characterize your approach to newborn care and working with new mothers?
My approach is very straight forward and I am very confident in what I do and how I do it. I bring suggestions to the table and try to educate moms as much as I can so they understand why I do what I do. I've found it's important to be as clear as possible to ensure we're all on the same page.
---
What do you enjoy about being on the Hush Little Baby Team?
I love that we can work together and bounce things off of one another. If there's ever a bump in the road, it's great to have that support. I also love the flexibility it gives me as both a career women and a mom.
---
What do you enjoy outside of caring for newborns?
I love my family, my church, and hanging out with my friends.
---
Share a fun fact about yourself!
I am a pastors wife and have invested in women through bible studies at the church and out of my home for over 15 years. I have spoke to many women and invested a lot of my time in growing women spiritually. I know that I am going to be speaking and encourage many women one day and hope to write a book as well.