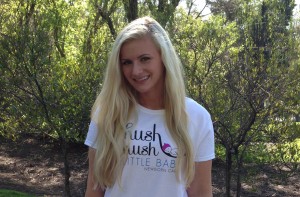 Mirzah
Mirzah has been a valued member of the Hush Little Baby since 2013 and brings with her an amazing and unique skillset. Mirzah is fluent in American Sign Language and actually uses it as a Newborn Care Specialist. One of our team's most proud moments was getting an email from a mother asking if we had any Newborn Care Specialists who know American Sign Language and being able to actually fulfill that need! Every member of our team has incredibly unique skills and qualities and we're happy to highlight what makes Mirzah such an incredible newborn care specialist.
---
Where are you originally from and how did you get into the newborn care profession?
I'm from a small town near Pittsburgh called Johnstown which is most known for its historical flood! I'm from a large family so I began caring for children at a very young age. I started babysitting pretty regularly and eventually worked as a nanny. I had been working as a Sign Language Interpreter when I realized I missed working with children and decided to set out on a mission to find a way to make 'Newborn Care' a career. That day I found Hush Hush Little Baby and the rest is history!
---
Let's talk newborns: what is your favorite part about caring for babies?
If you work in this field, you HAVE to love babies. There is nothing like holding and rocking a brand new baby. To know the parents are confident in you, and that the baby is relying on you is very fulfilling.
---
What is the greatest compliment you've ever received from a client?
I've had the opportunity to work with so many amazing families so it's difficult to pick just one! The one that stood out in particular was a family I worked with that was deaf. I was taught American Sign Language in my family since the day I was born birth and the family expressed how thankful they were to be able to communicate in their own mother 'tongue' and to have that support without the need of an interpreter. Because I grew up with a deaf father, I could really relate to how they felt. She also told me it's very clear that I had found my passion in newborn care. For a mother to recognize that is incredibly meaningful to me.
---
What do you enjoy about working with new families?
I love witnessing the miracle of a growing family. Watching a mom and dad grow into their parental roles, gaining experience and confidence is very rewarding. Though I've seen it many times, watching the milestones of a newborn is just as AMAZING every single time. The first smile, the first laugh. It NEVER grows old. Each day is very intimate and special. I have had the opportunity to grow close to many families and I love seeing updates or visiting their sweet babies as they grow up.
---
Tell us a little about your educational background. What degrees or certifications do you have?
I am CPR and First Aid certified for Infants, Children, and Adults. I am SIDS certified, and HHLB Certified. My goal moving forward is to finish my Doula certification and become a Certified Lactation Counselor.
---
How long have you lived in the DC area and how did you arrive there?
I moved to the DC metro area with my whole family in 2007 and have lived here since!
---
How would you characterize your approach to newborn care and working with new mothers?
I think it's incredibly important to always listen to the mother AND father too! Each family has different needs and is going through a huge life change. Being a newborn care specialist, I am there to support the whole family during this time of growth. Yes, its focused around the baby, but I'm there to help the entire family with the transition through experience and guidance along the way.
---
What is next for you? Are you preparing for a new certification or training event?
Yes! Right now I'm working on becoming a Certified Doula. Shortly after that I'll study to become a Certified Lactation Counselor.
---
What do you enjoy about being on the Hush Little Baby Team?
Every time I go to a staff meeting, I think about how cool it is to be surrounded by so many women that have the same passion and interests as I do. The team is full of individuals who all know the latest swaddle, new carseat design, or new bottle.
---
What do you enjoy outside of caring for newborns?
I love teaching sign language to children, playing guitar, singing, and spending time with my family… and going to the beach of course. If possible, I'd do all the above on the beach 🙂
---
Share a fun fact about yourself!
I come from a really big family. My Grandmother on my Mum's side has a total of 56 grandchildren and great-grandchildren!