Finding Mommy Groups for Thriving, Not Just Surviving!
Bein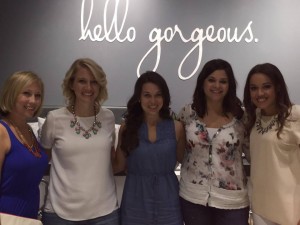 g a mom can be isolating, confusing, emotional, and just plain hard. Finding mommy groups full of ladies that genuinely support you is a vital part of thriving (not just surviving) mommy-hood. Parents are starting families further away from their hometowns and the rise of social media has made group organization easier than ever. So it's only natural that more and more women are turning toward mommy groups as a way to socialize and empathize with other moms.
Finding mommy groups in your area is easy (Facebook is a great place to start), but finding the right one for you is important. There are groups by the thousands and there are groups by the twos and threes. Explore the groups and find one where you'd be comfortable sharing the the highs and the lows of motherhood. The ideal mommy group will lift you up but can also offer a dash of "tell it to you straight," when needed.
For the moms out there who aren't quite ready to try a mommy group, there are also groups that sponsor events specifically for moms! In Tampa, we have the Mommy Spot, a group that hosts monthly events in a fun, social setting. Christina Campbell, founder of the Mommy Spot Tampa, created her company to ensure moms had place to retreat to once a month. This month Christina set up an event at BLO Bar Tampa, a hip salon offering blow outs! What mom doesn't appreciate someone else washing and styling their hair? It was a nice treat followed by great conversation with other moms from all over the Tampa and St. Pete area.
After a fun mommy event last night, it reminded me how important it is to talk to someone other than a two year old! As a transplant to Tampa, our closest family is in Washington DC. This is the same situation for many Hush Little Baby families in the Washington DC, Tampa, and Austin areas. No matter where you live, it's important to spend time among other women who understand your life as a mom. It's never too late to find mommy groups or attend mommy events. Taking the leap will be one of the best decisions you're make in your journey of being a mom.