Kathleen- Newborn Care Specialist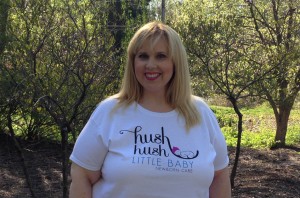 Kathleen has been in integral part of the Hush Little Baby Newborn Care team over the last two years. Kathleen joined the team in 2013 as an experience Newborn Care Specialist. Kathleen is always the first to volunteer and the last one to leave, which speaks volume to her commitment to the Hush Little Baby Team. It has been a pleasure having Kathleen on the team and I look forward to having her for many more years. Also check out one of Kathleen's latest articles, "Honey do you we need a Newborn Care Specialist," where she goes into detail about her role in the home with families.
Name
Kathleen Butler
Where are you originally from and how did you get into the newborn care profession?

I'm proud to be a native New Yorker! I've lived in the DMV area for 12 years, but NY will always feel like home. It was there as a little girl that I began caring for newborns from an early age.I spent the year between college and graduate school working in the newborn room for a corporate child care center.A few years after I had my own 4 children, a close friend who was already a working newborn care specialist recommended that I'd be a great fit as a NCS. She was right! I've loved this work since my first night!

Tell us a little about your educational background. What degrees or certifications do you have?
I hold a B.S. In Art Therapy and a M.A. In Psychotherapy. I enjoy learning new things all the time, so I always have some class in the works!Currently, I have completed my training from the Newborn Care Training Academy. I am almost complete with my IBCLC certification. That is the highest standard of care to assist women with breastfeeding and can take several years to complete! I received my Certified Lactation Counselor training as part of that process.I have also completed training's as a post-partum doula through both Dona and ProDoula. Additionally, I am a stillbirth and bereavement doula through StillBirthday University.
Let's talk newborns: what is your favorite part of caring for newborns?

My favorite part is providing new parents with tools and skills to be confident in their new roles.
Also, I just love holding babies- their tiny bodies, that sweet newborn smell. It's so peaceful and perfect!

Do you specialize in a particular area of newborn care?

Yes- multiples! I really enjoy the challenge of more than one baby at a time! Also, parents of twins and higher-order multiples really need the extra hands. I am able to share with them all the tips and tricks I've learned and tested that will help them not just survive, but thrive!

What do you enjoy about working with new families?

For me it's about planned obsolescence- that moment when they're fully confident in their parenting abilities, baby is sleeping and eating well and I am no longer needed! That's very satisfying to me personally. I always think the families I work with are the smartest, because they've identified an area in which they need help, then sought out the best!

How would you characterize your approach to newborn care and working with new mothers?

I strive to be respectful and supportive of the decisions my clients make for their new babies. I can provide balanced, evidence-based information to aid in any decisions about what's best for baby. My personal opinion or choices I made for my own children have no bearing on the support I provide.

What is next for you? Are you preparing for a new certification or training event?

I always have something going on! The Advanced infant sleep for newborn care specialists is a top priority! As is the Happiest Baby on the Block Educator class, that's one that's currently in progress.I'm also looking into graduate-level classes that would enable me to use my education and skills to better identify and serve families affected by post-partum depression.

What do you enjoy about being on the Hush Little Baby

Team

?

I enjoy working as a team because I know there is always someone I can rely on to back me up in an emergency or offer help if I'm faced with an unknown situation.Working alone, at night, in the dark, can be very lonely and isolating at times. But I know a team member is always just a quick message away anytime I need her!We are very lucky to have a group of women who support one another and encourage growth of our professional skills.

What do you enjoy outside of caring for newborns?

Spending time with my husband and our four sons is the best! We like to take road trips in our RV when we can. We all love traveling and enjoy spending time in Ocean City, MD as much as possible. I'm also a voracious reader and enjoy trying new recipes, not always to my families delight!

Share a fun fact!

We enjoy keeping and breeding pet birds! Currently, we have around 20 birds ranging from tiny Parrotlets to large Congo African Grey's. We are becoming certified USDA hobby breeders with plans to continue developing our home aviary! My personal favorite bird is a fancy turquoise green-cheek conure named Petey. I adore him and carry around at home all the time. He is quite the lil' character!