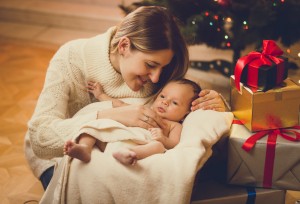 With the holiday season rapidly approaching, many of us are busy with the activities of the season, especially shopping for presents for everyone on our list. Unfortunately, many families with new babies are unsure what to get baby for their first holiday season. While it is true that your gift may vary dramatically based on the age of the baby, there are some items that make a great gift for any baby under one year during the holidays. Read on to find out more information about five of our picks for great holiday gifts for baby.
The O Ball is a toy designed perfectly for little fingers and is one of our favorite holiday gifts for baby. Newborns and younger babies often don't have great hand-eye coordination and the holes in this product make for easy pickup and many babies are able to hold on to this toy for a few minutes. The O Ball comes in many forms including, balls, balls with rattles, rattles, footballs, and even toys designed to go over the car seat. The O Ball products vary in pricing but are typically $8-15.
Usborne Books are sold through consultants and hosted parties. They make books for all ages and stages. Reading books before bedtime is a great element in a bedtime routine. As your newborn gets a little older, they will associate your bedtime sequence (we like the "3 B's"- bath, bottle or breast, book.) Our favorite books for children under the age of one include "Animally," and "B is for Bedtime." If you are in need of a consultant, we recommend Lacy Lewis, book consultant extraordinaire! You can order directly from: https://s4328.myubam.com/
The Fisher Price Jumperoo is an activity playset with a spinning seat that allows your infant to engage with a multitude toys for them to discover. The rainforest variant is one of the baby holiday gifts that infants love to spend time in jumping around. Additionally, it is adjustable which means it grows along with your baby making it a great gift option that baby will be able to use for a long time to come. As a bonus, it is easy to set up and won't take up a lot of room in your playroom or nursery.
Pottery Barn Bamboo Infant Feeding Set
If your child isn't eating solids yet, the time will be here before you know it. Whether you choose to do baby led weaning or purees and eventually finger foods, your little one will need a quality feeding set that grows with their needs. This Pottery Barn feeding set is in the shape of an elephant and includes one bamboo elephant plate and one spoon making it one of our great holiday gifts for baby. Pottery Barn also has a butterfly shaped plated for butterfly lovers.
Bows or Headbands make a great stocking stuffer for any little boy or girl. We love Baby Bling Bows. Despite the name, they have hats for boys. Their bows and headbands are made of a soft material that truly fit from newborn to two years of age. They have a wide variety of styles and color options available. Also noteworthy: their headbands don't leave marks on baby's head.