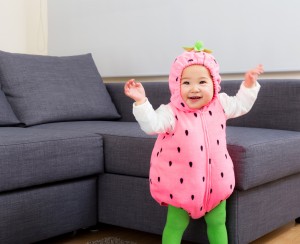 If this is baby's first Halloween season, it's likely that you are looking forward to dressing them up and doing ALL the fall things. You'll go to the pumpkin patch and take lots of pictures, and maybe pick out a few to place on your porch. Of course, you'll stop at Starbucks first for a much needed PSL and afternoon pick-me-up first. You'll spend hours searching for your little one's first Halloween costume to make sure it's perfect, and if you're feeling really into the fall spirit, maybe you'll even decorate your home. In today's blog, we are going over our favorite fall activity and tips for baby's first Halloween.
Visiting the Pumpkin Patch
To make your visit to the pumpkin patch less stressful, make sure you visit when you and baby are well rested (we know this one may seem impossible right now!) If you can, plan to visit on a week with warmer weather and sunshine. If you live in one of our locations in the south, maybe try to plan your visit when the weather is a little cooler. Make sure you have space on your phone to take lots of pictures of your little one's first visit to the pumpkin patch. It is certainly helpful to have a baby carrier and an extra person to help you enjoy your time and get photos. If you're planning on getting pumpkins, make sure you have someone who can help you load them, or don't be shy to ask an employee at the patch for help. Check out the list below for some of your local pumpkin patches!

Costumes
This is likely the part that you are most looking forward to for baby's first Halloween! Dressing your little one up in their first Halloween costume is certainly a milestone event in many families. Perhaps you will choose family themed costumes or go with something to match your little one's personality. A few things you may consider when purchasing baby's costume is your local weather, where they'll be wearing their costume, and if they are mobile yet. If you live in a warmer climate or will be inside for the majority of your child's time in their costume, you may want to consider avoiding bulky or heavy costumes. If your kiddo is crawling or walking, you'll need to make sure that the costume doesn't impede their ability to get around safely. If baby's costume is bulky or heavy, it is important that you remove that part of their costume before they ride in their car seat. Check out the links below for our favorite baby costume retailers!
Pottery Barn Kids
We hope you and your family have a great and safe first Halloween!