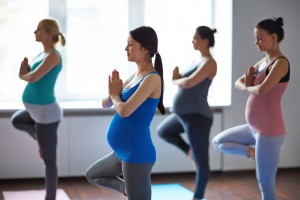 We're not talking about  hot yoga today, we're talking about the best Houston prenatal yoga studios! Prenatal yoga is a great way to strengthen your core and stay active during your pregnancy, because let's be honest, most of us don't have the energy to head out for a run or spend an hour lifting at the gym. Follow along as we highlight some of our favorite yoga studios in Houston.
Joy Yoga Center has two locations (Washington St., and South Voss Rd.) and offers a level 1 prenatal yoga class with flexible schedules. Joy Yoga Center offers online easy online booking for it's customers.
The Motherhood Center is located in the River Oaks community of Houston. The Motherhood Center has been dubbed the "Mommy Country Club" and offers a wide variety of prenatal, postpartum, mommy and me, and family yoga classes. Classes offered here are $20 each and they have nearly 20 yoga classes scheduled each week. In addition to yoga classes, The Motherhood Center also offers other fitness classes as well as parenting and new baby classes in general.
Alcove Yoga offers two options for pregnant women: The Women's Class (on Saturday mornings) and The Women's Class with Dinner on Monday nights. Alcove Yoga is located Donovan's Park off Cortlandt St.  If you are looking to make new friendships with other new mom's the Women's class with dinner may be a great option to make new and meaningful connections.
Namaste Yoga is located off Eldridge Parkway and offers a class that is appropriate for all stages of pregnancy. Their classes will "teach you breathing techniques to help with anxiety, restless nights, and the general demands of pregnancy and childbirth."
Pralaya Yoga offers both prenatal and postpartum classes for expecting and new mamas. They are located between Hyde Park and Montrose. Here you can prepare for your birth by learning to relax, helping baby into a good position, practice breathing, and opening your hips.
Yoga West offers prenatal yoga in two locations: Green Trails on Saturday mornings and Cinco Ranch on Tuesday mornings and Wednesday evenings. Yoga West offer a prenatal class pass for $120 that includes 8 sessions.
We hope you find the perfect prenatal yoga studio for you and your little one on the way!