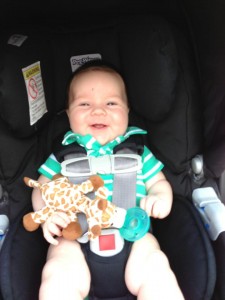 Choosing a car seat can be one of the biggest and hardest decisions for your registry. There are many, many choices available to families when it comes to car seats. While there are some great convertible car seats available starting at 5 pounds, today we are just going to talk about rear facing only seats, or infant carriers. In this blog, we are going to go over considerations before choosing a car seat to help you decide the best seat for you.
Your vehicles
The safest car seat you can buy is the one that you can install correctly every time. Taking into consideration the size of your vehicle, the year of manufacture, the model, and the way the back seats are shaped are important for determining the best seat for you and your vehicle. Most car seats are not allowed to touch the seat in front of it, for example if you are driving a Lexus RX 350 (or other small SUV) or an SUV with a third row, you would probably be better off purchasing a more compact seat like the Cybex Aton 2. If you drive a bigger vehicle with captain's chairs, you can pick almost any car seat that you can safely install. If you drive a truck with a back seat or any vehicle with a narrow back seat, it is advisable for you to contact a Child Passenger Safety Technician (don't worry Hush Hush Little Baby has you covered) to help determine the best seat for your vehicle as most car seat manufacturers don't allow more than 20% of the car seat base to hang over the edge of the vehicle seat.
Other children
If you have older children in your vehicle already, you may need a more narrow infant car seat to fit in between or with existing car seats. If you are expecting twins, than you'll want to make sure you get a car seat that goes down to 4 or 5 pounds in case they are a little earlier than planned or expected. The last thing you'll want to do when bringing home your little ones is have to exchange your car seats.
Your stroller choice
If you already have a stroller choice in mind, make sure that the car seat you're looking at is compatible to fit in the stroller. Many of the higher end strollers have adapters for almost any car seat. The adapters can range from $25-50 depending on the brand of the stroller and the brand of the car seat.
Weight and height limits
Every single car seat manufactured has a height and weight minimum and maximum limit that is permissible for passenger use. Each manufacturer, and each car seat model has their own individual limits. Focus more on the height limits than the weight limits as most infants will outgrow the height limit well before they hit the weight maximum. For example, there is an infant seat that is rated up to 40lbs, which can seem very impressive to perspective parents but keep in mind most children don't reach 40lbs until preschool or even kindergarten in some cases.
Safety & Convenience Features
Each and every car seat has to pass the exact same safety standard before making it to market, so buying an expensive car seat does not guarantee that your child is safer than when riding in a less expensive car seat. Understanding the safety features of a car seat is more important than basing your child's perceived safety on the cost of the car seat alone. Many of the convenience features that we use and love in our car seats will drive of the cost of the seat. Some of these safety and convenience features include no rethread harness, load legs or antirebound bars, the weight of the seat, and the whether the LATCH system includes clips, buckles or has a rigid LATCH system. While every car seat on the US market today comes with a LATCH system, it is important to note that only vehicles manufactured after September 2002 are required to have LATCH.
Height of primary driver
As previously noted, most car seats are not permitted to touch the seat in front of them. If you, or your partner are tall, it is likely that you may need a more compact car seat such as the Aton 2 to safety accommodate the car seat or seats in your vehicle. If there is only one driver, or a shorter passenger, there is less likely to be an issue because there is more space behind their seat and a bigger car seat can easily be installed on the passenger side.
Did you know that almost 80% of car seats are used or installed incorrectly? As always, it is extremely important to have your car seat inspected by a child passenger safety technician (CPST). Hush Hush Little Baby has several CPST's on the team that would be happy to schedule a private appointment at your home or workplace prior to your little one's arrival.