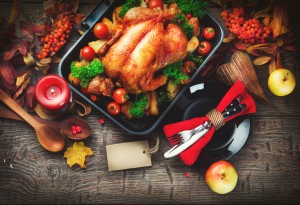 Thanksgiving dinner is one of those family meals that we look forward to every year and it is not uncommon for people to travel thousands of miles to enjoy food with family and friends. Typically it is a family tradition for the host to provide the main courses and their guests to bring side dishes for everyone to enjoy. But how do you handle this responsibility if you just had a baby? We are providing you with a few easy Thanksgiving side dishes that you can bring to your family celebration.
Warm Wheat Berry Salad with Dried Fruit
This delicious fall salad is as simple as boiling wheat berries and then mixing in the other ingredients in the recipe making it a great candidate for our list of easy Thanksgiving side dishes. The salad has a unique taste accentuated by the dried fruit and the mix of ingredients creates a one of a kind texture that your family and friends are sure to love.  As an added bonus, the wheat berries, apricots, and cranberries are excellent sources of fiber making this a healthy but tasty alternative to the typical Thanksgiving fare.
Rolls are a staple of Thanksgiving dinner and homemade rolls are always a hit no matter the size of the crowd. As a result, we decided we would be remiss to create a list of easy Thanksgiving side dishes and not include this wonderfully simple and flavorful recipe for dinner rolls.  While these rolls require a bit of cook time, they are simple enough for a beginner to prepare ensuring that you will not need to stress out about having the time and energy to contribute something to your family's dinner.
Cranberries are a traditional part of many Thanksgiving recipes and this simple recipe is no exception. Boasting only two ingredients, this recipe may be the simplest on our list of easy Thanksgiving side dishes. While making this dish does require occasional stirring to ensure that the cranberries don't burn, the overall execution required to make this dish is very low. The red-currant jelly perfectly compliments the cranberries to create a flavor profile your family and friends will love.