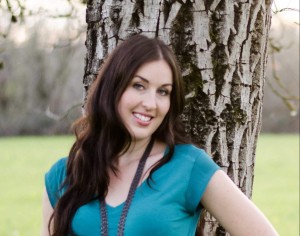 Where are you originally from and how did you get into the newborn care profession?
 I was born in Minnesota but have lived in Ca since I was 12. However, I love traveling all over to work as a NCS and Postpartum Doula. I have been doing babysitting since I was 9 years old and always loved babies. In 2010 I found out about postpartum doula work and have been specializing in newborn care ever since. I have done all types including live-in, 24/7, travel care, nights and day help.
What is the greatest compliment you've ever received from a client?
Most of my clients love that I am calm and organized. They appreciate that I can stay relaxed in stressful situations and also provide lots of education and knowledge to them as new parents.
Do you specialize in a particular area of newborn care?
I have worked with a lot of twins but I am really flexible and love working with all family types and styles.
What do you enjoy about working with new families?
I love being a much needed help during this amazing but difficult time. I love being able to put the parents minds at ease so they can really understand and get to know their babies in a positive and encouraging way.
Tell us a little about your educational background. What degrees or certifications do you have?
I have a bachelor's degree in psychology and social behavior. I am also a certified postpartum doula and newborn care specialist.
Let's talk newborns: what is your favorite part about caring for newborns?
I really understand newborns and I love caring for them because it is easy and fun for me. I am patient with them and learn about their clues and it is a fun process watching them grow and develop.
Have you ever had to overcome a unique challenge as a newborn care provider? How did you solve it?
I think the most difficult or stressful situation was caring for a medically fragile premature baby. She was on an oxygen monitor and would sometimes go into a deep sleep and her oxygen levels would dip. The machine would go off and I would need to wake her up a little so she would take a deep breath. It was a great learning experience and I found different ways to rouse and help her from getting into too deep of a sleep. Eventually when I left she wasn't on the monitor anymore it was awesome to see her develop. She was one of triplets so that of course added another challenge but I loved the job!
How long have you lived in the DC area and how did you arrive there?
I don't currently live in DC but I have been there quite a few times in the last year and love it. I may move there at some point within the next year and happy to come for short term jobs (1 month or less) in the meantime.  I have quite a few friends in the area and I enjoy spending time there.
If there was one thing you wish everyone knew about newborn care specialists, what would it be?
I wish they knew exactly what we do. We don't just care for the babies but we offer education and support to new parents that I think is a much needed service for anyone having a baby.
How would you characterize your approach to newborn care and working with new mothers?
I am very flexible as most parents don't know exactly what they want and sometimes change their mind as they learn about new things. I love to offer knowledge and education when asked. I try to be a help wherever I can and work in which ever ways are most helpful to the mom and family. I don't push my ideas or opinions on the parents and I am happy to support them in their parenting style and choices.
What is next for you? Are you preparing for a new certification or training event?
I have done most of the certifications already. My current project is starting SF Newborn Care (my new NCS agency).
What do you enjoy about being on the Hush Little Baby Team?
I haven't met all of the team members but everyone I have met is very nice and the company seems really organized and efficient.
What do you enjoy outside of caring for newborns?
My big hobby is snowboarding. Besides that I love being outside and doing any outdoor activities and just spending time with friends and family. 
Share a fun fact about yourself!
I am an avid snowboarder and live in Tahoe for at least a couple months each winter to snowboard. I also usually go on a couple trips each winter to explore other ski resorts around the US as well.