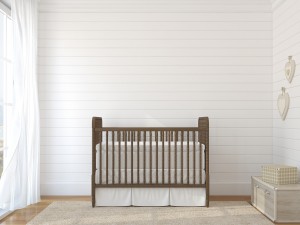 When it comes to planning your baby's nursery and crib bedding, picking out the bedding can be one of the best parts! In fact, this is something I just did over the past week. In todays blog we are going to go over what you need for your sweet little ones crib!
Mattress
When purchasing a mattress, the AAP has this to say "Fit your baby's crib with a firm mattress and make sure there's no space between the mattress and crib walls." Remember your baby is going to spend a lot of time on their mattress in the first few years of their life so it really is worth investing in a good quality mattress. For those of you that are on the fence about whether to go organic or not, this is one of the areas (along with diapers) that I recommend going organic, babies really do spend a lot of time in their cribs.
Personal Favorite: NaturePedic Organic Cotton Classic
Mattress Pad
Now that you just invested in a great mattress, you'll want to make sure you protect it! Put one or two mattress pads on your registry. Some are really fluffy while others are a little bit more dense, opt for the one that's not fluffy to reduce the risk of SIDS.
Personal Favorite: NaturePedic Crib Pad
Crib Sheets
Now we're to the fun part- the crib sheets! I fell in love with a Little Unicorn sheet this fall when Haleigh and I attended the ABC Baby Expo in Vegas. When I found out I was having a little girl I based her room around these sheets. You'll want to register for 3-4 sheets per baby. There are so many options available for to parents and they are a great way to add color to a room. With crib sheets you aren't limited to big box stores, be sure to check out Pottery Barn Kids, RH Baby, Serena and Lily, Land of Nod, Aden and Anais, and Little Unicorn.
Personal Favorite: Little Unicorn
Crib Skirt
Crib skirts are another great way to bring color into a room. There are many options available for styles, they have straights, pleats, double pleats, and ruffles! So many choices to best fit your needs. If they don't have a skirt that specifically matches your set, you can try Carousel Baby Bedding for a solid color option.
What about crib bumpers? The AAP no longer recommends crib bumpers as they pose a suffocation risk to littles ones. Instead of using bumpers, you can opt to use a colorful crib skirt or "bumperless" sheets!