If you enjoy sporting events and live in DC, you've probably been out to Nat's Park to watch the team.  My husband and I enjoy going to Washington Nationals games, and when we went to a game the other night, I had to check out the nursing room. While you might already know about their state of the art stadium, you might not be aware of this special feature they have for new moms. In today's blog, I am going to tell you about the Lansinoh Nursing Room at Nat's Park!
How it came about
Prior to the addition of the Nursing Room, breastfeeding mothers were directed to the conference room (if not in use) or the family restroom when they needed to nurse.  Unfortunately, this meant that fans that needed to nurse were forced to miss parts of the game. An online petition was started by a local Arlington mom, Katie Ray. As a season pass holder, she was unhappy with her option to pump in the restroom. Once the petition was online, hundreds of moms signed and the rest is history. With the help of Lansinoh, the Washington Nationals opened the Lansinoh Nursing Room about a year ago.
The Basics
The Nursing Room at Nat's Park is one of the first nursing rooms at a Major League baseball stadium. The Washington Nationals made headlines when they announced that a breastfeeding lounge would open at the stadium in August 2015. The Nursing Room is conveniently located adjacent to Section 223 along the first base line near the club level seating. It is a women's only room with a staff member outside the door for security and to monitor entering guests. Therefore, you can feel secure knowing that someone is watching the door and ensuring no one is entering without authorization.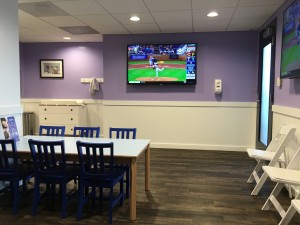 The Details
The inside of the breastfeeding lounge has everything a nursing Washington Nationals fan could want.  There are five private leather loungers with canopies that allow you to privately nurse baby. There are also additional chairs available if the canopies are all occupied. Each of the loungers has outlets so you can plug in a pump and charge your phone while you're there.  The Nursing Room is also equipped with two changing tables, a sink, fridge, a table with chairs to entertain toddlers, and TV's to make sure you don't have to miss a single big play.
We are proud of the Washington Nationals for supporting breastfeeding mothers, and Hush Hush Little Baby is proud to serve their fans.