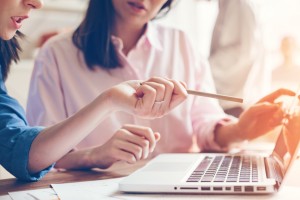 At Hush Hush Little Baby, we understand how difficult it can be to return to work after maternity leave. Women often feel guilty about not being home with their baby when they return to work. We believe that no mom should have to feel shame for their choice to stay home or return to work after maternity leave. Additionally, we acknowledge that many women have to return to work for financial reasons not by choice. According to an article by the Huffington Post, 1 in 4 new moms return to work only 2 weeks after giving birth. Although every woman is different and will respond differently to returning to work, we all need support. So today we are giving you 3 tips for returning to work after maternity leave.
Plan Ahead
Having established plans and realistic expectations of what returning to work after maternity leave will look like is crucial. If you are breastfeeding, ease baby into being fed by someone else from bottle. Talk to your boss about setting up a comfortable place for you to pump during the day. You can also ask your boss what their expectations are from you when you return. Discuss with them any work from home or flexible scheduling options that may be available. You may even be able to arrange a part time schedule to find a balance between income and home life. If possible, make your first day back to work after maternity leave on a Wednesday or Thursday. This makes for a shorter first week and helps you ease into your work schedule again. For the first few days, wake up early to allow time to handle unexpected issues that may arise.
Secure Care
It is important to have a plan for childcare when returning to work after maternity leave. Many women find it difficult to focus on their job because they are concerned about their baby.  Leaving your baby with someone you trust can provide peace of mind to help get you through. Before selecting care for your baby, make a quick list of what is most important to you. Years of experience, cost, flexible hours, and education opportunities for baby are all things you may want to consider. Once you have secured a primary childcare provider, it is necessary to create a backup plan. There will be times when your primary childcare provider is unavailable. Without a backup plan their unavailability can put you in a very difficult position. This may be where having a work at home or flexible schedule option may come in handy. Perhaps you have help during the day but need to get a good night of sleep. Hush Hush Little Baby would love to work with you to find a Newborn Care Specialist that suits your needs. Additionally, if you are looking for a nanny for daytime care, we recommend Capital City Nannies.
Find Your Groove
Once you have returned to work after maternity leave, it will be necessary to establish a new routine.  Most women find that they are not the same employee they were before maternity leave. You also have new items that have been added to your schedule like drop off and pick up for baby. All of this adds up to an experience that can be physically and mentally exhausting. Time management and being productive at work are a great help to keep you from working late. However, every working mom has to find a balance that works for them; but be realistic in setting your balance. You may be tempted to view life at home through rose-colored glasses but remember, the grass isn't always greener. Staying home is a different kind of work and it comes with its own set of challenges.  Be patient with yourself and give yourself time to adjust to the new schedule and pace of life.  Finally, make sure that your new routine includes time for yourself each week.  We all need time to recharge and pursue the things that make us unique.