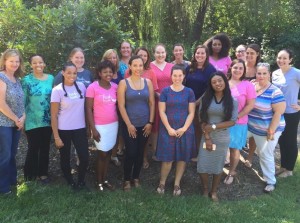 When deciding on a care provider for your newborn or infant, there are a lot of services and agencies to choose from. At Hush Hush Little Baby we love and value our clients which we believe shines through in the ways we provide care for you and your family. In today's blog, we are going to highlight the Hush Hush Little Baby difference.
Education
Our team members are some of the most educated in the field; this in part because each provider is required to take a Newborn Care Specialist or Doula training before they are eligible to work with Hush Hush Little Baby.  Many of these care providers have obtained advanced certifications and trainings such as becoming certified lactation counselors (CLC), child passenger safety technicians (CPST), yoga instructors, labor doulas, and postpartum doulas, just to name a few. 
The high degree of education demanded by Hush Hush Little Baby for our care providers ensures exceptional care, continuity and consistency between caregivers.
The Agency Advantage
Working with an agency rather than an individual affords security; in the event that your newborn care specialist or doula is unable to work, Hush Hush Little Baby will make sure that your care needs are met to the best of our abilities. Additionally, because we have a large team, there are a wide variety of specializations available to meet every need or issue that may arise during your pregnancy or postpartum journey. The use of an agency helps to ensure a standard of care that is not guaranteed when working with an individual provider and we do all the screening for you by performing background checks, reference calls, insurance checks, and more on all team members.
Business Professionalism
At Hush Hush Little Baby, we understand the nature of the job does not lend itself to conventional office hours so we encourage current and prospective clients to call or email us at any time.  We pride ourselves on constantly being available and quickly responding to our customers needs including same day/night service and last minute care without additional fees. The agency is owned by a Newborn Care Specialist herself so she understands the scope of services that are expected of her independent contractors and can provide expert guidance or advice to parents searching for a care provider.
You may also like:
4 Tips for Better Sleep During Pregnancy
Nursery and Crib Bedding Must Haves