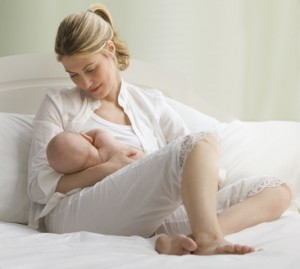 If you are planning to breastfeed, make sure you stick around for certified lactation counselor, Brittany's, breastfeeding must haves. While there aren't any products that you must have there are certainly a few products that can make breastfeeding a little bit easier. In today's blog we will go over my top 5 helpful nursing products.
Nursing Bras & Tanks
Of course you can continue to use your regular bras (if they still fit!) but having a bra that unsnaps one side at a time can be far more convenient than trying to slide your strap down your shoulder. The same goes for a nursing tank top. If you want to keep your belly covered up while you nurse, a nursing tank is a great option. If the bras you are looking at purchasing are sized by cups, wait until your milk has come in as it is common for breast to go up a cup size from your size at the end of your pregnancy. Avoid nursing bras with underwire as that can cause clogged ducts down the road.
Personal Favorite: Cantaloop
Breastfeeding Pillows
Contrary to popular belief, not every new mom will need a nursing pillow! If you are a mom with a shorter torso, you may just need a flat bed pillow or just something to support your arm as you nurse. If you are a mom with a long torso, it is likely that you will need a taller pillow. So how do you know if you need one? To check your fit, place baby on his or her side on the pillow and see where their head lines up with your nipple. Their mouth should be directly across from your nipple, not above or below.
Personal Favorite: My Brest Friend
Nipple Cream
Although breastfeeding shouldn't hurt, sometimes it can be helpful to use a little bit of nipple cream. If you are using nipple cream, ensure you are washing your hands thoroughly prior to putting them in the jar or on your nipple. Remember, if it's not clean enough to put directly in your baby's mouth, it's not clean enough to put in the jar. It's best to apply nipple cream directly after a feed to allow it to absorb into your skin before the next feeding.
Personal Favorite: Honest Nipple Balm
Nursing Pads
Not all moms will leak or need to wear nursing pads but it is advisable to at least keep a small box on hand and maybe one or two in your purse or diaper bag. Until you know your breastfeeding habits and what triggers a let down, it's not a terrible idea to wear nursing pads while in public to avoid visible wet spots on your shirt.
Personal Favorite: Lansinoh Nursing Pads
A Good Water Bottle
Just like when you were pregnant, you should be drinking lots of water. A good water bottle that you can tote around with you makes it so much easier to drink frequently. That said, most nursing moms are extra thirsty any how so it makes it a little bit easier than in pregnancy.
Personal Favorite: S'well Water Bottle
Make sure you check back next Thursday for pumping must haves and check out the links below for other registry must haves!
Where to Register
How to choose a car seat
Bottle feeding must haves
Nursery & bedding must haves