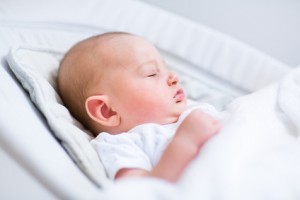 Having a piece of stationary equipment for baby to hang out in while not in your arms in a vital part in keeping your household running after the baby comes home. While it's not necessary to have every piece of equipment on the market, it is helpful to have one or two stationary items in your home. Join baby gear expert, Brittany, as she goes over stationary equipment for baby.
Swings
Swings can be immensely helpful in calming a fussy baby and are personally, one of my favorite pieces of stationary equipment for baby. There are many swing choices, designs, and options available on the market for you to choose from. Look for a swing that can plug in to the wall, swings in multiple directions, and that has a moving mobile. Many babies prefer to move side and side as opposed to up and down or backward/forward.
Baby's should not be permitted to sleep in swings as motion sleep is not as restorative as the sleep baby would be getting in their crib and it is very easy for a baby to become dependent on motion to fall or stay asleep.
Bouncers
Bouncers are my second favorite piece of stationary equipment for baby. They are lightweight, compact, and easily moved around from place to place in the home. They are small enough to fit in the bathroom while you shower and light enough that you can pick it up and take it in to another room with ease. Look for a bouncer that has a vibrating feature as some babies really enjoy the light vibration. If space is tight, or if you like to be able to easily store your equipment, look for a bouncer that folds up flat, like the Baby Bjorn.
Rock N Plays
Rock N Plays can be immensely helpful when they are used properly. A Rock N Play is a piece of stationary equipment for baby that looks somewhat like a bassinet but is inclined to keep baby's head above their belly. While they are great for day time use under supervision, it can be potentially dangerous for your baby to sleep in them. Whenever baby's head is raised their head can fall forward and kink they airway, a potentially fatal position causing what's known as positional asphyxiation.
Check out weeks 1-8 of our Registry Series below.
How to Choose the Perfect Car Seat
Which Monitor is Right for You?
Nursery and Crib Bedding Must Haves