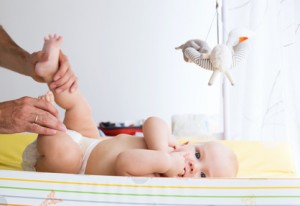 If you've never changed a diaper before, you're going to get a lot of practice in the near future. Diapering must haves probably isn't at the forefront of your mind when you think about what to register for but, nevertheless, you'll be doing a lot of changing so we couldn't leave it out. Stick around to read about baby gear expert, Brittany's, diapering must haves.
Diaper Brands
Unfortunately, you don't really know what diaper will work best on your baby until he or she makes their appearance. Register for a few different brands in a few different sizes, but perhaps stick to just one box of Newborn size. If you decide you don't like a particular brand or baby grows out of the sizes you were given too quickly, many stores will exchange unopen boxes for the next size up with no hassle.
Diaper Creams
If you look on the back of a tube of diaper cream, you'll notice that most of them say they can be used with every change. It's important to remember that if they didn't say this, the only time they would sell their product is when your baby had a diaper rash. Typically speaking, baby's don't need a diaper cream very often so I would limit cream to just one tube. Tubes are recommended as you don't want to introduce bacteria into a jar by sticking your fingers in there during diaper changes.
Changing Pads
Changing pads are widely available and can be found at almost all department or baby stores. Look for a sturdy changing pad that is contoured on at least two sides to help prevent baby from rolling off. Diaper changing pads are pretty universally sized so whatever cover you purchase should work.
Wipe Containers
Next to the actual diapers and wipes themselves, I consider a good wipe container a diapering must have. Oxo Tot makes a great wipe container that uses a weight inside the container so when you pull out wipes, only ones comes out. There's nothing like trying to change a diaper in the middle of the night and accidently pulling out 8 wipes then having to stuff them back in their container.
Diaper Pail
Although no diaper pail can completely eliminate the smell of a dirty diaper, having one can eliminate a lot of the diapering smell. When considering your diaper pail look for diaper pails that only require one hand to use and consider if you want to use a pail that will require special brand specific liners for the next 2-3 years.
We hope you found this post on diapering must haves helpful! Check out our previous blogs in the registry series below!
Where to Register
How to Choose the Perfect Car Seat
Which Monitor is Right for You?
Bottle Feeding Must Haves
Nursery and Crib Bedding Must Haves
Breastfeeding Must Haves
Pumping Must Haves
Stationary Equipment for Baby